Birmingham series 2 dates and draw is here!
a big shout to all the many artists who have applied to us here in brum..
bad luck to those of you who haven't got in this time, please apply next series..
so, who, when, where?
"..and it goes a little something like thisssssssssssss"
16 artists in total
(picked from a hat in the rainbow pub 15/10/08)
2 battles each night @ the rainbow pub, digbeth
19th july 2008
Posh1 v's Kungfo
Ouch v's N4T4
30th aug 2008
Agent v's Monk
Jake Illustration v's Phill Blake
11th oct 2008
Trav v's Tony Cryze
Newso v's Lady Rinth
15th nov 2008

2p v's Sam Bevlak
Goonism v's Obenzah
27th dec 2008 - quarter final (2 battles)
17th jan 2009 - quarter final (2 battles)
21st feb 2009 - semi final
then the final in the warehouse.. march 09 date tbc
some brilliant artists in there, and some
extremely
interesting battles
good luck everyone!!
whilst we're here, a big thanks goes out to all the artists who reached for the recent "drop beats not bombs" friendly we had at the Rainbow.. we picked a team each and went at it toe to toe,
everyone one won ;)
unfortunately someone stole our dv camera and therefore we are lacking in stills and video, but here's a few stills we have sourced from secret wars fans out there.. (many thanks Beef + Joe)
n4t4
newso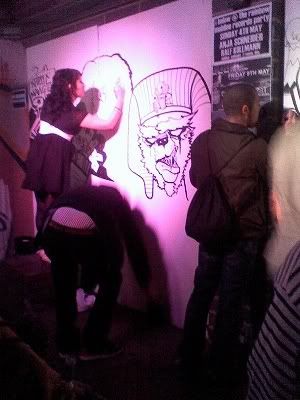 lady rinth / obenzah / kungfo in effect
peace from middle earth!
Seeds + Slobz
Burnin'em Secret Wars team